LUXURY PROPERTIES WÖRTHERSEE
LUXURY PROPERTIES AROUND LAKE WÖRTHERSEE
Carinthia is arguably the go-to destination for all kinds of delights. It is Austria's prime getaway spot with its crystal-clear lakes, lush forests and picture-postcard views from atop the surrounding Karawanken mountain range. There's no shortage of events and nightlife in Carinthia either, and these too are just as spectacular as the region's natural gems – especially in summer.
The place that perfectly showcases all these qualities is the turquoise jewel at the heart of Carinthia: Lake Wörthersee.
ALL ABOUT LUXURY PROPERTIES ON THE SHORES OF LAKE WÖRTHERSEE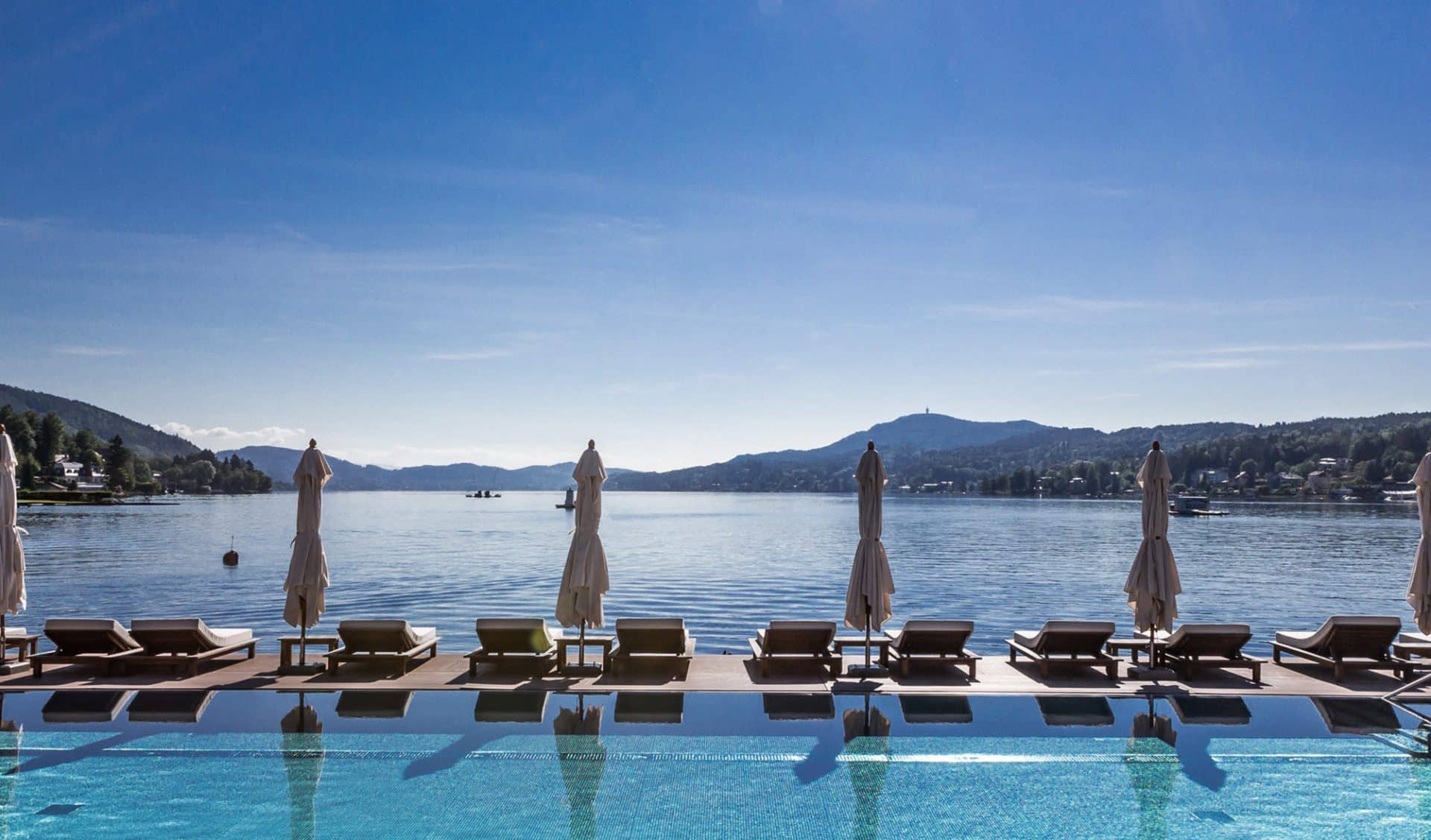 Given the region's outstanding beauty and reputation, there is considerable demand for luxury properties around Lake Wörthersee. Buyers from across Austria as well as international investors have long recognised the region's immense intrinsic value. As a result, lakeside properties are increasingly being bought as lucrative investments with high growth potential.
In addition to exquisite designs and a great location, what is key to determining property value around Lake Wörthersee is how much of the plot is on the lake itself. That is why a number of luxury properties are built just off the shoreline, although it doesn't make them any less exclusive. On the contrary: being set back from the lake enables expansive balconies and terraces to really come into their own as they provide sweeping views of the scenery, creating a more delightful atmosphere.
Austria's leading lights have long made Wörthersee their ideal gathering spot as it is the perfect place for high society to mix without being disturbed. This is reflected in the value per square metre in particularly popular areas where it can reach EUR 10,000.
LIVING DELUXE Real Estate specialises in highly exclusive, luxury properties in Austria. Based in Velden am Wörthersee, our company has operated in the local property market for many years and knows it inside out. Our exquisite villas, apartments and houses around Lake Wörthersee enable you to soak up the surroundings from the most beautiful part of the lake. All of our luxury properties have amazing views of the lake and surrounding landscape, and they are all uniquely elegant and luxurious.
Last but certainly not least, our luxury properties around Lake Wörthersee and the wider area give you access to a spectacular and eclectic range of entertaining activities and grand events. Wörthersee has so many highlights on offer, making it the perfect place for enjoying festivities, taking long summer holidays or simply getting away from it all and recharging.
Events and attractions around Lake Wörthersee
For thrill-seekers
If you want to experience the most enchanting views in all of Carinthia then the Pyramidenkogel is just what you need. Standing at 920 metres tall, the tower allows you to take in the sheer beauty of the breathtaking lake scenery with 360-degree views. Thanks to its state-of-the-art panoramic lift, you can save yourself the backbreaking climb and instead enjoy a thrilling ride into the clouds.
The legendary Minimundus miniature park may be just what you are looking for if you want to see the world's biggest attractions on a small scale.
Unique events have your entertainment covered. In addition to a great number of concerts by popular artists, the region plays host to a few regular star-studded events in the summer:
Starnacht: A must for fans of Austropop and 'Schlager' hit music. Starnacht gathers together the biggest German-speaking stars for one unforgettable evening.
Velden White Nights on Lake Wörthersee: The highlight of the year for party animals and socialites. White Nights takes place in Velden am Wörthersee, a real gem on the lake. Falkensteiner Schlosshotel Velden, the local casino and Gemonaplatz serve as venues for the weekend-long party, with well-known national and international acts also making appearances.
Rolls Royce and sports car meets: Anyone with a penchant for extraordinary cars will certainly get their money's worth at Wörthersee. The annual Rolls Royce and sports car meets are the perfect place to get up close to some of the most exclusive sports and luxury cars from the past and present.